Inflection Point? TRIPS Waiver proposal
Newsletter Edition #7
Hi,
Sometimes we need to look to the past to see the future.
In 1991 when Dr Manmohan Singh, then India's Prime Minister, ushered in widespread economic reforms in his first budget, he told Indian Parliament quoting Victor Hugo, "Nothing else in the world…not all the armies…is so powerful as an idea whose time has come."
I was reminded of this while trying to understand the significance of the new proposal presented by South Africa and India – that will be discussed at the TRIPS Council at WTO this week. This bold proposal, which has already received a lot of attention in the last few days, essentially seeks to give a choice to countries to not grant or enforce intellectual property rights during the pandemic. Supporters of the proposal hope it will be a game-changer in fighting the pandemic by taking the pressure of countries to grant intellectual property protection, making access to medical products easier, cheaper and faster.
There are echoes in these developments from the response to the AIDS crisis that was a precursor to the political but significant Doha Declaration in 2001. 
While many have already predicted and analysed why the proposal will not succeed, our story this week tries to look at what is possible and the importance of this proposal. Read on.
Optimism is preferable in these dark times from our limited perspective. 
We have enjoyed reporting on this story, which truly encapsulates Geneva – where issues converge and where institutions seemingly open up spaces for multilateralism. Talk to us, write to us, share your unique perspectives to make this inter-disciplinary reporting initiative a rich experience. 
I believe you enjoy reading us, given the public and private feedback we receive. Do consider donating, so we keep going.
Source, share and support us.
Until next week.
Priti
(As you will see, we have limited this newsletter to our story of the week, given its length. Other sections will return next week!)
Feel free to write to me: patnaik.reporting@gmail.com
---
1. Story of the week
THE TRIPS WAIVER PROPOSAL – AN IDEA WHOSE TIME HAS COME?
Picture this, more than half a year into the pandemic of COVID-19, upwards of 38 million infections, a million and more lives lost; vaccine nationalism embraced by politicians of all stripes; hedged bets on numerous bilateral deals; short-termist planning for vaccines for a pandemic that might last years; economies in dire straits; limited manufacturing capacities; inadequate supply of all medical products; all this on the back of rising infections and mortality, with millions still susceptible.
We are here.
And now consider this, a new legal measure which in one stroke liberalises manufacturing capacities world over for medical products to fight the pandemic, results in technology transfer, sparks collaborations across regions, redraws power dynamics between countries and companies. As a result, billions of people get access to medical products, sooner than later, at affordable prices because the causes for artificial scarcity, to an extent have been addressed. All of this can take shape in an expanded policy space for countries with reduced political and commercial pressures. We potentially can get here, if countries wish so.
This, in essence is what countries will discuss this week and in the coming months at WTO's TRIPS Council and beyond.
South Africa and India, with the increasing support of a number of other countries, have suggested that all countries should temporarily be waived of their obligations under TRIPS agreement in order to fight the pandemic comprehensively. The proposal essentially seeks to allow all countries to not grant or enforce intellectual property protection for the duration of the pandemic, until widespread vaccination has been achieved. 
The proposal requests the TRIPS Council to recommend to the General Council  a waiver for all WTO members so that they do not have to implement, apply and enforce certain provisions of the TRIPS Agreement, while responding to the COVID-19 pandemic. The proposal seeks to waive certain obligations enshrined under Section 1 (on copyrights and related rights), 4 (industrial designs), 5 (patents) and 7 (protection of undisclosed information) of Part II of the TRIPS Agreement. It also seeks to protect countries from the application of dispute settlement rules to such actions in relation to the pandemic response.
Such an internationally applicable rule will immediately free up policy space for countries to take bold measures to address the pandemic including by regional collaboration, technology transfer. It is also expected to take the edge of political pressures that decisions such as compulsory licensing of drugs, for example, typically attract. 
This is a discussion that is long overdue, some experts believe, and the pandemic proves to be an inflection point to bring these deliberations into a rule-making institution, such as the WTO.  The inevitable comparison will be with WHO's voluntary mechanism to share technology, the COVID-19 Technology Access Pool that has had few takers. (As Geneva Health Files has reported before, WTO is increasingly becoming crucial for global health related matters.)
THE TRIPS WAIVER PROPOSAL AND ITS IMPORTANCE
The proposal, Waiver From Certain Provisions Of The Trips Agreement For The Prevention, Containment And Treatment Of Covid-19 was submitted to the TRIPS Council at the WTO earlier this month. Sources close to the process said that this was preceded by discussions on the proposal for nearly two months before it was tabled for the consideration of the TRIPS Council.
The following are some excerpts from the proposal, already widely reported:
"...Given this present context of global emergency, it is important for WTO Members to work together to ensure that intellectual property rights such as patents, industrial designs, copyright and protection of undisclosed information do not create barriers to the timely access to affordable medical products including vaccines and medicines or to scaling-up of research, development, manufacturing and supply of medical products essential to combat COVID-19….
It notes the acute shortages in many countries on account of swift global demand for medical products. (See our earlier story on this.)
"…As new diagnostics, therapeutics and vaccines for COVID-19 are developed, there are significant concerns, how these will be made available promptly, in sufficient quantities and at affordable price to meet global demand. Critical shortages in medical products have also put at grave risk patients suffering from other communicable and non-communicable diseases…"

"The rapid scaling up of manufacturing globally is an obvious crucial solution to address the timely availability and affordability of medical products to all countries in need."
It notes that:
Beyond patents, other intellectual property rights may also pose a barrier, with limited options to overcome those barriers. In addition, many countries especially developing countries may face institutional and legal difficulties when using flexibilities available in the Agreement on Trade-Related Aspects of Intellectual Property Rights (TRIPS Agreement). A particular concern for countries with insufficient or no manufacturing capacity are the requirements of Article 31bis and consequently the cumbersome and lengthy process for the import and export of pharmaceutical products.
The proposal is ambitious in its scope, essentially asking WTO to allow countries the choice to not grant any patent for medical products in the context of this pandemic. And yet, it is also defining in its objective, limited only to the duration of the pandemic.  
Sangeeta Shashikant, Legal Advisor to Third World Network told Geneva Health Files, "We are in a global pandemic, and yet there is no global sharing of knowledge, technology and related IP.  Instead we see supply constraints and high prices due to IP. This waiver, if accepted, will be in force internationally and will give countries legal freedom to operate.  This is a credible way to address IP barriers related to COVID-19 medical products."
Intellectual property has been a significant barrier during the pandemic so far. It has led to the blocking of sharing of technology. Not only patents, but also industrial designs, trade secrets, for example, she added.
IS INTELLECTUAL PROPERTY A BARRIER? MORE EVIDENCE
Notwithstanding statements by pharmaceutical industry bosses and even top officials of other multilateral institutions, experts suggest that intellectual property has indeed been a barrier to improving accessibility of COVID-19 medical products.
In a briefing document, MSF points out that "In the last few months, treatment providers and governments have faced IP barriers over drugs, masks, ventilator valves and reagents for testing kits."
A letter supporting the TRIPS waiver proposal, undersigned by more than 350 civil society organizations globally, activists pointed out the example of access to Remdesivir:
"Gilead Sciences' secret licensing agreements for remdesivir, a medicine that was developed with substantial public funding, are restricted to a few manufacturers of its choosing, thereby preventing low-cost supply to nearly half of the world's population. Unsurprisingly, there have been global shortages of the medicine, with many developing countries yet to see even a single vial of the treatment exported to them. Given the medicine's limited effectiveness, we are deeply concerned that such an approach for a safe and effective therapy will exclude even more people from treatment access." (CSO letter)
MSF has said that, "The primary patent on the base compound of remdesivir has been granted to Gilead in more than 70 countries, which means that when countries are not covered by a voluntary license or do not use other measures to overcome the patents, they may be blocked from getting access to generic alternatives until 2031."
For vaccines development, patents have been found to be barrier not only in the current pandemic, but also in the past. It has been pointed out that "a family" of patents (more than 100) have been filed for the mRNA technology that Moderna is using to develop a vaccine. MSF has shown that patents interfered with the access to affordable versions of newer vaccines like pneumococcal conjugate vaccines (PCV) and human papillomavirus (HPV) vaccines.
To be sure, there have already been more than a few patent disputes in the context of COVID-19 medical products. (See these: Pandemic intellectual property dispute deepens as Inovio is countersued, leaving its COVID-19 candidate in limbo; and Patent dispute looms as a major complication for Moderna's COVID-19 vaccine)
Another example of IP being a barrier for therapeutics for COVID-19, is the use of monoclonal antibodies, some of them repurposed, and others new anti-virals, both of which are in clinical trials for potential treatment in response to SARS-Cov-2. WHO officials have admitted in the past, that IP issues resulting in high prices for biologic candidates including monoclonal antibodies can interfere with access to these drugs going forward in this pandemic. These candidates are protected under patents in a number of countries. If efficacy is proven, authorities will then have to scramble to ramp up manufacturing in the light of these barriers.
Similar dynamics prevail for diagnostics, according to experts. According to MSF, "major diagnostics companies hold a considerable number of patents, often bundled into thickets for various instrumentation, assays, methods and software, related to different aspects of the technologies, methodologies and devices. This proliferation of patents may contribute to discouraging the development of open platforms for interoperable diagnostics."
There is enough evidence to consider the effects of stringent intellectual property protection on the access to medical products. It is for WTO members to consider these impacts collectively in order to work on an expansive solution to address these at multiple levels. To be sure, a range of countries including high-income ones, have taken a number of legal measures since the onset of the pandemic to prepare for circumstances, as highlighted by this proposal.
WAIVER VS A DECLARATION?
Countries might have learned their lessons from 2001 in terms of pursuing some of these contentious matters such as IP protection in forums such as the WTO, sources suggested. Although the Doha ministerial Declaration , opened up policy space for public health measures that countries could take (by making room for the issue of compulsory licensing), it is viewed primarily as an influential political document which did not have as much effect as it should have over the years because of a number of caveats, some observers say. WTO members had to work to fix some of the short-comings in terms of easing rules on exports of generic medicines, for example.
Members had to work on ways to find a solution for what was called Paragraph 6 of the Doha Declaration on TRIPS and Public Health, that recognised the inability of some countries to make use of compulsory licensing mechanisms for lack of manufacturing capacity. This resulted in the August 2003 decision of the General Council of the WTO, waiving requirements of Article 31 (f) of the TRIPS Agreement, thus enabling a country to export medicines manufactured under a compulsory license to another importing country.  The Canada-Rwanda case in 2007 illustrated the problems in using this waiver effectively.
(Even following the amendment, experts point out the territorial and procedural restrictions in making use of these provisions cumbersome.)
Members decided in 2005, to make this waiver a permanent amendment in the TRIPS Agreement. This amendment (Article 31bis) took effect in 2017. (Some high income countries had decided to opt-out of this amendment, meaning that they unilaterally committed that they would not make use of the system as importers, according to a post in Medicines Law and Policy, earlier this year. These countries have been urged to reconsider this in light of the pandemic.)
This circuitous path on improving access to medicines, suggests that the COVID-19 crisis requires a more straight-forward solution to meet its multi-dimensional challenges immediately, and this waiver proposal seems to aspire for such a solution, a diplomatic source who did not wish to be named explained to Geneva Health Files.
MSF has argued that a waiver "offers an expedited, open and automatic global solution that allows for uninterrupted collaboration in development and scale up of production and supply.."
"The Doha Declaration has been a useful political instrument for signalling purposes. As a result many countries stepped up and issued compulsory licenses. But political pressures continue to operate on any country considering such measures. However, a waiver from certain provisions of the TRIPS Agreement, will give countries the moral authority. To an extent such pressures will reduce on countries looking to address the pandemic," K M Gopakumar, Legal Advisor to Third World Network said.  
THE MECHANICS OF A POSSIBLE WAIVER
This proposal has obviously set fire to speculations and conversations, on all sides of the small but influential community working on access to medicines. Some pointed out that a waiver is not necessary given recognised and established flexibilities in the TRIPS agreement. For one, technical capacities are uneven in countries even today in order to make use of TRIPS Flexibilities. The COVID-19 response resolution adopted by World Health Assembly earlier in the year, essentially seeks ways for countries to make use of these flexibilities, during this health crises.
Besides, countries, already stretched in this pandemic, are well aware of the time and effort needed to use these flexibilities, given that will need work through product by product, company by company, in their pursuit for greater access to medical products, in the midst of rising infections and mortality as a result of the pandemic.
"When countries lack immediate manufacturing capacity for any of the essential parts for a product, including raw materials, components or packaging materials, removing IP barriers on one product in one country alone will not be sufficient," MSF said in its briefing on the proposal.
Others have flagged a security exception in the Agreement (article 73), that countries can make use of, instead of resorting to a waiver. The TRIPS agreement allows for exceptions including "emergency in international relations" – circumstances where there could be legal basis for overriding intellectual property rights.
Experts such as Frederick Abbott, Edward Ball Eminent Scholar Prof. of International Law, Florida State University College of Law have argued that "the pandemic constitutes an emergency in international relations within the meaning of Article 73(b)(iii) and that this provision allows governments to take actions necessary to protect their essential security interests."  
A diplomatic source explained that the security exception will not protect countries from potential disputes with respect to the measures they take in order to address the pandemic. However, a waiver as proposed, will include the non-applicability of provisions under the Dispute Settlement Understanding.
"If a dispute is filed against a measure taken by a country even under the security exception of the TRIPS Agreement, the panel will still have to review the use of security exception in that particular case," the source said.
The proposal's suggested text on the draft decision suggests this:
Members shall not challenge any measures taken in conformity with the provision of the waivers contained in this Decision under subparagraphs 1(b) and 1(c) of Article XXIII of GATT 1994, or through the WTO's Dispute Settlement Mechanism."
So under what provisions can this waiver take shape?
The proposal points to provisions in the Marrakesh Agreement Establishing the WTO [Article IX, (3) and (4)], that empowers the Ministerial Conference to waive obligations in exceptional circumstances based on a justification.
While the actual duration of the waiver will have to be negotiated, WTO rules require waivers to be time-bound. Supporters of the proposal suggested that the time period cannot be short, given prolonged nature of this pandemic, and the time needed to collaborate and build manufacturing capacities for medical products in different parts of the world.
To be sure there have been waivers in the WTO system, in the past. And they do now.
In fact, the TRIPS Council will also consider a new proposal from Least Developed Countries: Extension Of The Transition Period Under Trips Article 66.1 For Least Developed Country Members, requesting that all LDCs, including graduating LDCs, would need a further extension of the transition period with maximum flexibility in light of the current pandemic. This provision waives certain obligations under the TRIPS agreement for a defined period of time for LDCs.
The proposal by LDCs says, "Developing a viable technological base is a long-term process. LDCs need a continuing exemption from the Agreement on Trade-Related Aspects of Intellectual Property Rights ("TRIPS Agreement") in order to be able to grow economically viable industrial and technological sectors, to consolidate capacity, and to work their way up the technological value chain. To overcome the difficulties confronting LDCs, magnified manifold by the COVID-19 crisis, LDCs need maximum policy space inter alia to access various technologies, educational resources, and other tools necessary for development and to curb the spread of COVID-19 pandemic. Most intellectual property (IP)- protected commodities are simply priced beyond the purchasing power of least developed countries."
THE PROCESS AND WHAT NEXT
According to WTO rules, the TRIPS Council has 90 days to consider this proposal and a report is then submitted for consideration by the General Council and the Ministerial Conference (June 2021). The decision on the proposal has to be made by consensus at the conference, as per procedure. (If consensus cannot be reached, the decision can be made by voting. A three-fourths majority is needed for a decision to be made through voting.)
Diplomatic sources close to the process suggested that at least three other countries have indicated their interest in co-sponsoring the proposal. Some of the countries that have expressed interest in the proposal include Eswatini, Indonesia, Sri Lanka, Venezuela, Pakistan, Rwanda among others, according to sources close to the process. When this story went to print, it is understood that a resolution was adopted in Chile asking its government to support this proposal at WTO.
Countries will be careful before dismissing the proposal, a diplomatic source was of the view. "The pandemic has different trajectories in different countries," so countries will approach this proposal with consideration and caution before they evaluate this. It is still a very new proposal, the source suggested.
"They are likely to raise questions formally, and will not simply close down the process," the source added. There might eventually be a ground swell of support for this, the source said.
If approved, the waiver will operate internationally, and depending on national circumstances, action may  need to be taken at the national level to operationalise. However it does provide opportunity to suspend various IP protections that may impact access. (In some countries international law applies directly, and in some countries executive action may be sufficient and in other countries, more may be required, depending on other national legislations exist.)
THE MIXED RESPONSE TO THE PROPOSAL
Both DNDi and Unitaid, among significant Geneva-based global health actors working on access issues, have come in support of the proposal.
South Africa and India, may also find non-traditional allies. (FT curiously called it the awkward squad).
Given the systemic nature of this pandemic, and the overwhelming lack of infrastructure to fight health emergency the world over, and toxic co-morbidities, overlain with global health security concerns and interests, could push countries in a common direction, the diplomatic source summed up.
Existing mechanisms to fight the pandemic, crucially fall short of the kind of response the world needs, experts said.
Gavi's COVAX Facility is limiting in its scope and ambition. "For the moment, COVAX aims at providing vaccines only over the next two years. What happens after that? Why not bring in more players? This waiver seeks to do that, breaking this notion of donor countries "giving" vaccines to poorer ones," a source who did not wish to be identified said.
Also, given industry's admittedly steadfast position on voluntary licensing approaches during this pandemic, a waiver of this scale, might be the only way to push for faster, more transparent production of COVID-19 medical products.
Others are of the view of that voluntary approaches might work better, pointing to WHO's Covid-19 Technology Access Pool. (By WHO's admission, the C-TAP is a more medium to long-term solution.)
In an opinion piece, Ellen 't Hoen, Director, Medicines Law & Policy, former head of the Medicines Patent Pool, said,
"..It is therefore understandable that developing countries are also looking at non-voluntary measures such as the proposal for a temporary waiver from certain provisions of the TRIPS Agreement for the prevention, containment and treatment of COVID-19. No doubt this will be met with opposition from wealthy countries and drug companies. But those countries and companies who refuse to make the WHO C-TAP a success while telling developing countries they are not entitled to take measures to protect public health in the midst of a global health crisis are not credible…"
Given the threat of such a waiver, it may well be that some companies and countries might drag their feet and join the C-TAP club.
This is a highly dynamic environment in which both governments and companies are finding ways to rise to this public health challenge including by tinkering with contracts and access policies.
Discussions in the European Union are a good indicator on which way such policy discussions may evolve. From joining the Covax Facility, to signing bilateral deals, from taking a keener role at WHO, the EU is a key player.
To be sure there has been interest in this proposal including from some members of The European Parliament: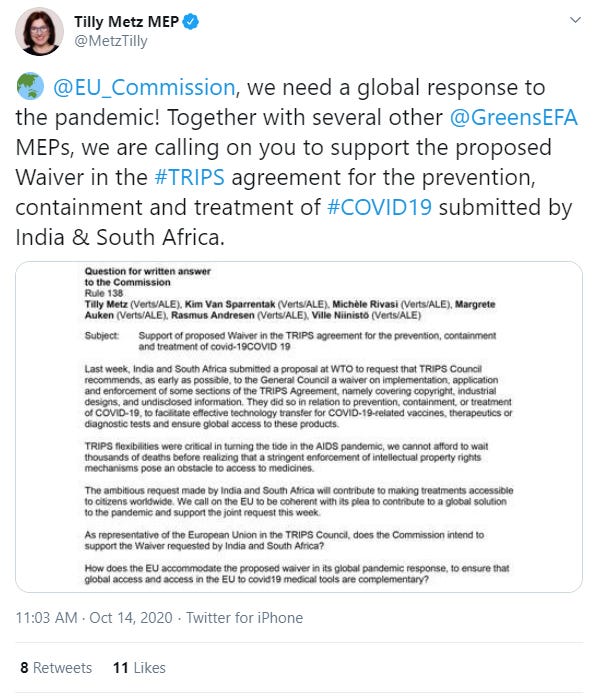 Some MEPs raised the question:
As representative of the European Union in the TRIPS Council, does the Commission intend to support the Waiver requested by India and South Africa?

How does the EU accommodate the proposed waiver in its global pandemic response, to ensure that global access and access in the EU to covid19 medical tools are complementary?
The support has come from different quarters, including from Progressive International - a group that brings together academics and activists, urging the WTO to "play an instrumental role in moving the world away from monopoly medicine and vaccine nationalism by adopting a suspension of intellectual property exclusivities."
It appears that this proposal is not only a mere waiver of some legal obligations. It could potentially change power equations between countries and companies, in the public interest.
"This waiver can potentially change this dynamic of manufacturers calling the shots. It is not an ideological opposition to the TRIPS Agreement, but it is very defined and applies only to COVID-19. Low supply, and high prices of diagnostics, vaccines, and therapeutics will leave many countries without enough access to medical products during the pandemic. This waiver seeks to address this," Shashikant of TWN said.
Like this story? Consider a donation.
---
Support this independent global health journalism initiative. Regular donations are crucial in order to sustain the production of Geneva Health Files.