Gavi & Civil Society: Unhappy Engagement
Newsletter Edition #4
Hi!
Often journalists are accused of looking only at the bad news and not at the "solutions". Blame it on occupational hazard. We are not pessimists, but more like tempered realists.
There has been much celebration, rightly so, on the unprecedented international cooperation that has seen 156 countries line up with varying degrees of commitment behind Gavi's Covax Facility. Countries seem to trust that the agencies (WHO, Gavi and CEPI) will do their best to get access to the safest vaccines in the quickest possible time, at an affordable price for those most at risk. No easy task. Determination and diplomacy has brought countries together, for now, despite strong winds favoring bilateral deals dictated by market forces.
We must take cognizance of the efforts of those at the table, who make the decisions for the rest of us. This week, we take a step back to hear from those who are not at the table, on whose behalf these decisions are being made. That's our story.
As always, I urge you to consider supporting this unique journalistic initiative. Regular donations are crucial in not only keeping it sustainable, but will help us draw attention to the less celebrated spaces in the bright world of global health.
Share, source, support us.
Best,
Priti
If you want to write to me, get in touch here: patnaik.reporting@gmail.com
---
1. Story of the week
GAVI'S DISCOMFORT WITH CIVIL SOCIETY ON VACCINES
The hesitation of letting the door open to include civil society organizations, to effectively contribute to defining discussions on vaccines for the pandemic, especially for a massive immunization agency, is perplexing.
Gavi – The Vaccine Alliance has vaccinated more than 820 million children, is backed by the most powerful funders of global health, and has received nearly $2 billion in pledges every year for the last few years[1]. Why is one of the biggest agencies in global health, wary of activists?
Geneva Health Files tried to understand the reasons behind Gavi's insistence on excluding Civil Society Organizations (CSOs) on COVID-19 vaccines' discussions. According to several people who work on CSO matters, Gavi has traditionally not engaged with CSOs effectively and the pandemic hasn't changed that much. It appears this lack of CSO engagement is based on inadequate appreciation, and worse, distrust of what civil society does and can bring to Gavi's operations, sources say.
THE STORY SO FAR
CSOs have pushed for greater involvement in engaging with the vaccines pillar of the Access to COVID-19 Tools (ACT) Accelerator (ACT Accelerator), and specifically, the COVAX Facility. But they have not had much success. It makes especially intriguing given that CSOs, have been integrated well into the activities of the others pillars of the ACT Acclerator - on therapeutics, diagnostics and Health Systems Strengthening. Given the tremendous interest on vaccines for the pandemic, it becomes critical to incorporate the voices from the ground that CSOs represent, experts are of the view.
It is understood that the top leadership of Gavi, is of the opinion that CSOs already have a representation on its Board and that it is sufficient.

Image Source: Gavi Annual Report 2019
Some allege that industry interests prevent Gavi letting in CSOs into these "technical" discussions. Industry representatives associated with the vaccines pillar, allegedly fear that disclosing confidential commercial information during these discussions may somehow get leaked, if CSOs are also present in these meetings.
We asked Gavi about its hesitation on working with CSOs on COVID-19 vaccines.
A Gavi spokesperson said, "The COVAX Facility is attempting to guarantee fair, global allocation of COVID-19 vaccines in the few short months we have before – we hope – the first licensed doses become available. Nothing like this has ever been attempted before in such a short timeframe and we are working round the clock to ensure it is a success. Despite this we have consulted with key partners, civil society and all participating governments throughout, responded to their questions and requests and will continue to do so, including through specific consultations."

This was in response to a number of queries sent in connection to this story.
Geneva Health Files also reached out to various organizations that work with Gavi. A different picture emerges that does not seem to match Gavi's stated position on this. Others point to structural reasons on the lack of CSO engagement at Gavi.
GAVI's TRADITIONAL ENGAGEMENT WITH CSOs
There is a perception among those who have worked with Gavi that the Alliance has not had a culture of truly engaging with CSOs.
An employee of an organization that works on CSO matters, said, on the condition of anonymity, "Gavi's current model and programmes support is currently not designed and does not facilitate the inclusion of all stakeholders at country level, including CSOs and community-based organizations. There is a clear will to be country driven over the last several years. However, Gavi is more comfortable and is used to collaborating with recipient country governments and UN partners, and even some private sector companies, rather than with CSOs."
While Gavi does not have a clear framework of engagement with CSOs, this work is underway, the source acknowledges. CSO do have a seat at the table in the governance mechanism (Board, Programme and Policy Committee, related committees) and use these to make their voices heard and represent the wider CSO constituency needs and interests. However, CSOs need recognition, consideration and resources so that these key stakeholders are recognised as equal partners of the Gavi Alliance, the person added.
In somewhat of an indictment, Gavi's former CSO Focal Point described how the organization did not have in place the mechanisms, culture, staffing, or will to engage CSOs competently and in good faith. This source, who reached out to Geneva Health Files, spoke at length, on the condition of anonymity, to avoid risk of jeopardizing career prospects.
"My job was to create a CSO engagement strategy for Gavi. It was a disaster, and I left ten months into my twelve-month contract. In my almost 20-year career, I have never worked at an organization whose executive leadership had such antipathy to civil society and human rights," the person said.
These descriptions indicate that even during the pandemic, Gavi has not been able to address some of these concerns despite repeated pleas from CSOs for engagement on vaccines discussions.
THE MESSAGE FOR CSOs
Fifa Rahman, who is a Board Member for NGOs, at Unitaid and is the Civil Society Representative on the Diagnostics Pillar of the ACT-Accelerator, attended two calls where civil society organizations were consulted by Gavi.
"During initial discussions, top Gavi officials insisted that civil society is already represented at Gavi's Board and there was no further need for civil society to be a part of particular working groups in the vaccines pillar of the ACT Accelerator. Pursuant to that call of course a mechanism was established to select CSOs for participation - but language during these initial calls weren't a great signal. It continues to be concerning that there is a distrust of the COVAX for CSOs to choose their own representatives." Rahman told Geneva Health Files.
She also added that both the diagnostics and the therapeutics pillar of the ACT Accelerator has had deep engagement and consultations with CSOs. (CSOs have been able to choose their own representatives for the other two pillars of the Act Accelerator)
Others who were at the briefing, recall that some top officials questioned civil society's relevance to technical discussions. (This was also corroborated by the former employee). It was pointed out during one such call that confidential commercial information disclosed during such discussions may not be protected by civil society members.
There is a perception that civil society means only "street activists", one source said. It is a shame that they think civil society members cannot make intellectual contributions, a source added. (Many will argue that this is also disparaging of street activists who are often the eyes and ears of communities.)
One source, familiar with the internal operations at Gavi, who did not wish to be named, said "The pharmaceutical companies do not want civil society involved, and that is why Gavi has been taking a hard line against CSOs." The source also added that there have been discussions on eventually creating an accountability or stakeholder oversight committee but it explicitly will not include civil society, even as external consultants are a part of this.
Queries sent to Gavi on the pressure from pharmaceutical industry on excluding CSOs were not specifically answered.
On the other hand, a letter sent in early July 2020, by various agencies in the ACT Accelerator recognizes that civil society and community organizations have "critical roles to play, especially in ensuring the successful realization of the ACT Accelerator goals promising engagement with the civil society".
This letter was in response to efforts by CSOs to engage with the processes of the ACT Accelerator. It was undersigned by the heads of World Health Organization, CEPI, Wellcome Trust, Unitaid, FIND The Global Fund to Fight AIDS, Tuberculosis and Malaria and the World Bank Group, and the Bill & Melinda Gates Foundation. A source said that Gavi had trouble co-signing this letter, but eventually did. (The letter has been seen by Geneva Health Files)
This letter said, "As a basic principle, we concur that there must be CSO and community organization engagement in all ACT Pillars and in Cross-Cutting Access & Allocation workstream that is led by WHO." But also clarifies later that "..the extent and nature of your engagement will differ by Pillar, including in the number of workstreams or sub-workstreams involved." CSO engagement is the responsibility of, and coordinated by, the relevant Pillar Co-Conveners through the CSO focal points of those agencies, the letter said. CSOs can engage with the ACT Facilitation Council, according to the letter sent by agencies administering the ACT Accelerator.
HOW THE LACK OF ENGAGEMENT WITH CSOs IMPACTS COUNTRIES
One source recalled a conversation with an official from a small island country, who was not sure how to reach Gavi, because of inadequate civil society representation. Gavi has put the country in the high-income category and this country wanted to negotiate a lower price as "fees" to participate in the COVAX Facility. This also illustrates the need for deeper CSO representation on international agencies such as Gavi to help countries negotiate better, a source who did not wish to be identified told this reporter. 
In addition, MSF had already cited from previous experience the repercussions of CSOs being excluded from crucial decisions. In a letter on "key considerations for Gavi's new global financing mechanism" in June 2020, it pushed for non-governmental purchasers in the COVAX Facility. It said:
"Include the humanitarian community and NGOs as eligible purchasers: Besides governments, other vaccination service providers such as humanitarian organisations and non-governmental organisations (NGOs) will need access to future COVID-19 vaccines. Oftentimes these organisations are able to reach the most vulnerable people such as internally displaced and refugee populations. Past initiatives led by Gavi left out NGOs who were ultimately paying a higher price for the same vaccine being administered in the same Gavi-eligible country. To avoid repeating this mistake, Gavi must include non-governmental purchasers in their COVAX Facility; a platform for all NGOs that administer vaccinations must be established in the Facility architecture."
ON TRANSPARENCY
In general, it is widely acknowledged that international organizations can do with greater transparency given the amount of public funding at stake. To be sure, getting CSOs to the table threatens status quo to some extent. And not just at Gavi.
"There is a reluctance to share the pie. Contracts earmarked for national civil society almost always go to UN and to northern-based INGOs and for-profit organizations. The more I complained about this, the less I was invited to meetings or included on CSO discussions — even though I was the CSO Focal Point," the former employee recounted.
Approximately 80% of the country budget is allocated to WHO and UNICEF. The remaining 20% goes to governments, according to the assessment of the source familiar with this matter. "Gavi has no system for tracking what, if any, funds are sub-granted by those partners to national CSOs, particularly when the funds are passed through UN agencies, as the latter's reporting requirements are shockingly meagre," the source added.
CSOs are a member of the Vaccine Alliance and they have a seat on the Gavi Board, but they are not considered a member of Gavi, nor are they considered a core partner, multiple sources were of this view.
Many senior executives do not consider them a partner at all, the former employee said. "I got tremendous push-back each time I tried to engage CSOs. The executives repeatedly asked me: "What do CSOs do, anyway?" "What is their added value?"; "How can CSOs be leveraged for us to achieve our Gavi goals?"; "What do we have to do to make these people shut up?"; 'These people' in 'these countries' don't have the capacity, the critical thinking skills, the professionalism…" the former employee said.
WHAT CSOs WANT OF GAVI?
In July 2020, ahead of Gavi Board meeting, more than 120 different CSOs from all over the world, wrote a letter stating their demands on greater inclusion across various levels of the vaccines pillar of the ACT Accelerator.
CSOs noted that "Regretfully, the requests of civil society to Gavi, CEPI and WHO to be meaningfully engaged in the ACT-A Vaccines Pillar (COVAX) have largely gone unanswered."
" … in the name of speed, there have been shortcomings in establishing an inclusive and multi-stakeholder consensus process especially as it relates to communities and civil society.  Our experiences with pandemics -whether HIV or Ebola -has taught us that the inclusion of communities is central to the success of any global health initiative.  (The role of communities in tackling previous outbreaks has been repeatedly emphasized by Mike Ryan, executive director of the World Health Organization's Health Emergencies Programme at WHO)
Underscoring the importance of formal representation, they specifically asked for greater representation in the ACT-A Vaccines Pillar (COVAX), COVAX Facility and COVAX AMC architecture, as follows:
- 2 civil society and community representatives in the ACT-A Vaccines Pillar/COVAX overall coordination group
- 3   civil   society   and   community   representatives   within each of   the   ACT-A Vaccines/COVAX Pillar workstreams of: a) Development and Manufacturing (led by CEPI); and b) Policy and Allocation (led by WHO)
- 3 civil society and community representatives within each of the COVAX Facility Shareholders Council, and COVAX AMC Stakeholders Group governance structures
"The extent of the Vaccines Pillar/COVAX's structure, work and membership is not even known, as no detailed organigram of COVAX has been shared. We call for the COVAX organigram (working groups, membership) to be publicly shared," the CSO letter to Gavi's board said.
THE IMPORTANCE OF CSOs
An employee of an organization that works with Gavi across the world, told Geneva Health Files, "CSOs and Community Based Organizations bring a very wide and diverse range of expertise in maternal, new-born and child health; and immunization. They can support demand generation for services, decrease level of vaccine hesitancy and mistrust via social behaviour change activities. They are also active advocates at all levels (at community, parliament, head of states, development partners) and represent their communities's needs and interests."
CSOs also provide service delivery and health technologies support, especially in humanitarian settings including hard to reach areas, protracted crises, post conflict and other contexts where, very often, they are the only actors present and offering support on the field, the source familiar with operations on the field added.
Gavi's former employee, mentioned above is of the view, "CSOs are a crucial component of accountability. They counter-balance the interests of Government, UN, and the private sector. Civil society is all of us. CSOs are the only actor capable of bringing our voices — and in particular the voices of those of us who have been historically marginalised, under-served, and/or under-represented — to the attention of decision-makers. When CSOs have a say, we all have a say. They are also essential to transparency and good programming and good governance. Health programmes and policies are stronger, more equitable, and more implementable when CSOs are involved in creating and monitoring them." 
In the letter sent to Gavi's board, as many as 175 CSOs and individuals, presented the variety of additional expertise that these stakeholders bring, including, but not limited to: advocacy,  communications,  research,  intellectual  property,  licensing,  clinical trials,  regulatory  issues,  market  shaping,  procurement,  supply  systems,  social  marketing, health  literacy,  demand  creation,  and  community-based  service  delivery.
"Faced with the biggest public health crisis of our generation, now is not the time to stray from the normative practice of civil society inclusion that has a track-record of improving the responses to health challenges," the letter added.
The pandemic needs vaccines, but it also needs accountability. Engaging with CSOs is an important way of achieving it.
Not everyone is hopeful. "I don't believe Gavi will meaningfully include civil society in the COVAX facility, or work for any kind of equity between and within countries. There are many good people working at Gavi, but they are not the ones making strategic decisions," one source said.
—
[1] The contributions from donor governments and foundations, pledged to Gavi between 2016-2020 amount to more than $9 billion. Cash proceeds from donors and investors stood at $2 billion in 2019, its total liabilities and assets stood at $6.3 billion at the end of 2019.  
Like this story? Consider a donation.
---
2. What we found interesting this week:
I. INTELLECTUAL PROPERTY IS NOT REALLY A BARRIER FOR VACCINES: W.H.O.
It may not be "news", but we had to sit up and take notice. Top officials stated in a press briefing earlier this week (21.09.2020) that intellectual property is not really a barrier for vaccines. We hope to understand and examine this further, if it is indeed the case.
There were some disagreements on twitter, to a similar assertion made by CEPI chief Richard Hatchett at the same briefing: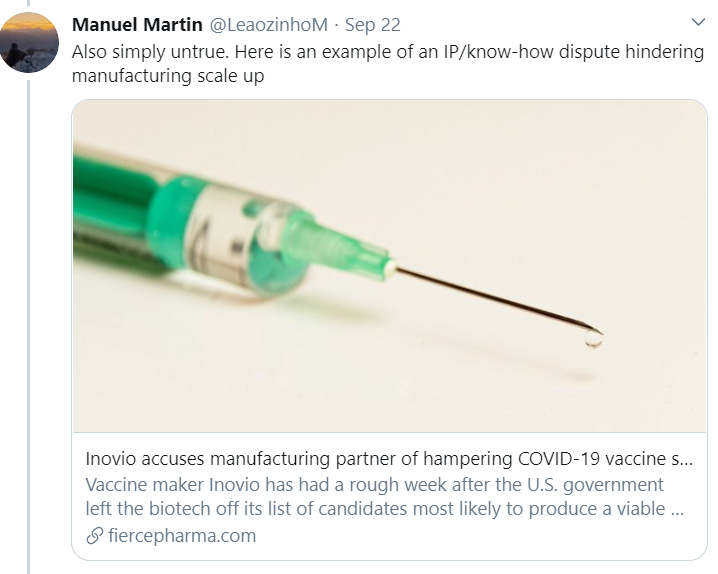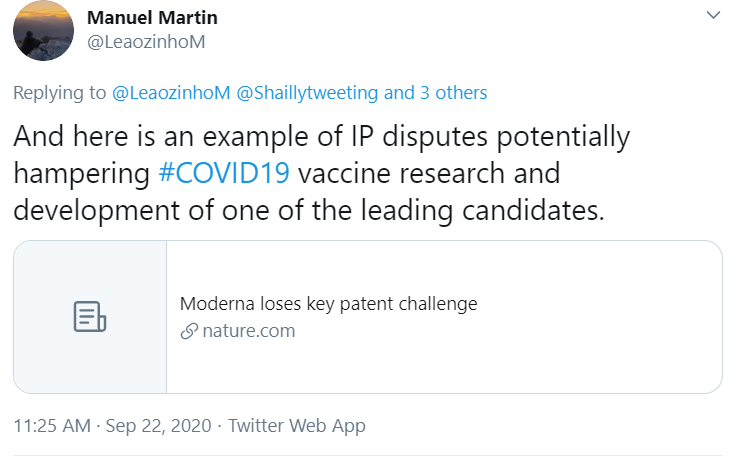 II. A THICKET OF FRAMEWORKS
While we are still unraveling how the frameworks on values, allocation and ethics will dictate the access to COVID-19 health products, we lay it out here if you want to check them out.
Here is what WHO has painstakingly put together:
The following is WHO's Mariângela Simão speaking about her experience of working on the allocation framework, in an article in Science. The challenge of formulating polices suspended in ambiguity is undoubtedly tough.

---
3. We are also watching:
---
Support this independent global health journalism initiative. Regular donations are crucial in order to sustain the production of Geneva Health Files.